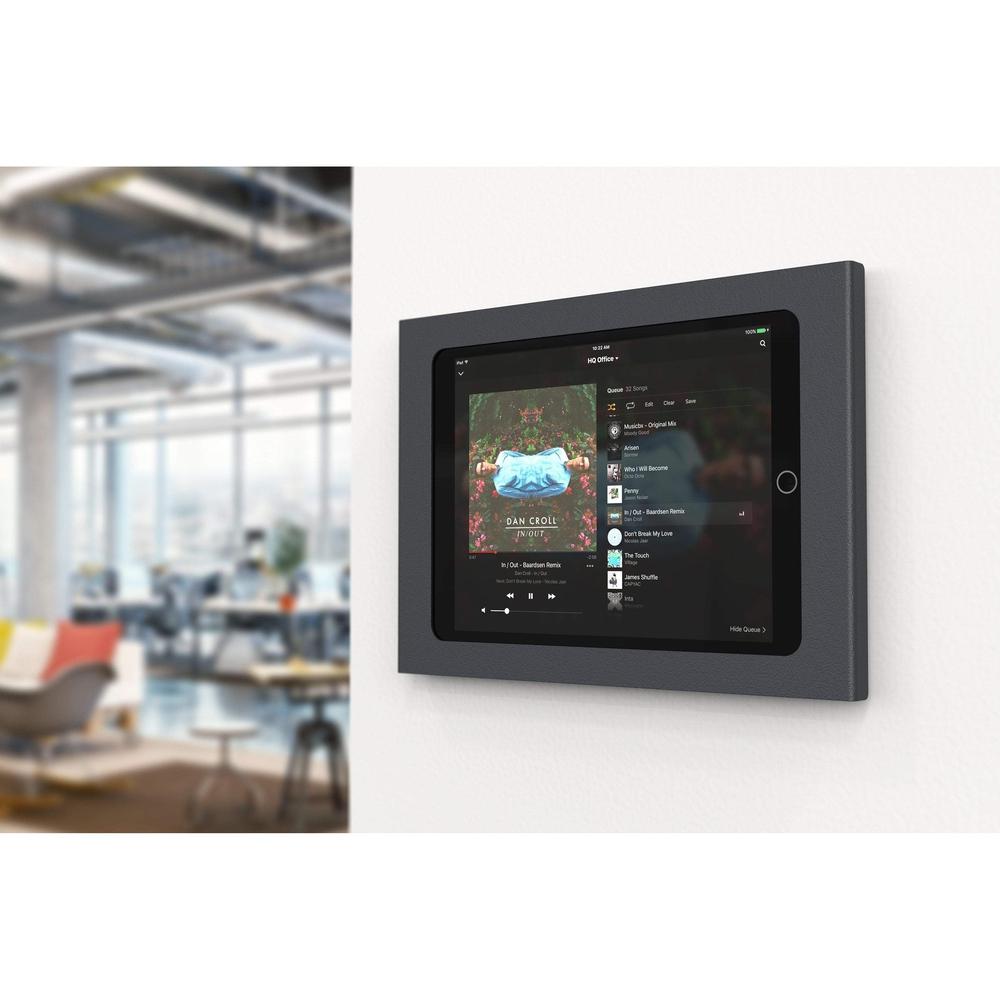 Heckler Wall Mount Enclosure with Power for iPad - 802.3af - Fits 10.2" iPad 7th Generation
Minimized Facade iPad Wall Enclosure and Display With PoE Power with Super Easy Installation for Digital Signage, Zoom Conference Room Schedulers, and More
Slim Profile with Integrated Power Over Ethernet:
PoE Texas has created a super thin lightning adapter to fit in Heckler iPad Wall Mount with PoE. The result is incredible - an unbelievably slim form factor without compromises. iPad Slim Wall Mount is just over a half-inch thick and includes an integrated, 24V PoE adapter and PoE Power source to keep your tablet powered reliably throughout the day.
Power Over Ethernet Included:
PoE Texas and Heckler Designs have teamed up to produce a thin profile mount and that includes a reliable PoE adapter built right into the mount. Using 24 volt Passive PoE, you can direct wire your Ethernet cable to the board for continuous power to your iPad. See PoE Texas' Wiring Diagram for installation.
Kit Options:
IEEE 802.3af - For use with your existing IEEE 802.3af Switch. We include a GAT-24v25w Splitter which converts 48 volts (from your PSE) to 24 volts to power the integrated Lightning adapter
24v Passive - Don't have an 802.3af PoE Switch? We include a POE-1-24v12w Injector Kit which will provide 24v of Power over Ethernet for the integrated Lightning adapter.
Mount Only - Already have a 24v PoE Source or want to use a 24v multiport injector? This option will include the mount plus the integrated Lightning adapter.
For a selection of compatible four- and twelve-port passive 24V injectors, please see our 24v options. (Call us for custom kit orders)
Stylish Conference Rooms:
Securely mount an iPad mini, iPad Air or iPad Pro on any wall – with style. Heckler iPad Wall Mount with POE offers architectural-grade aesthetics, commercial-grade construction, and tamper-resistant assembly. Wall Mount with POE is perfect for home automation, security camera monitoring, and music control. Try mounting vertically for a better look at lists, meeting attendees and schedules.
Quality Secure Design:
Quality components contribute to an upscale design. We've designed Wall Mount with PoE to be a welcome addition to impeccably designed interiors. Its minimalist aesthetics will blend naturally into any environment. Hidden secure assembly screws assure that your iPad isn't leaving the room.
Easy Install:
Whether you're leasing your space or own it outright, iPad Wall Mount with POE is designed to keep your walls beautiful. Four points of contact, and a fifth hole for power—that's all. No gang boxes needed, all hardware remains forward of the wall. Plus your installation hardware is included in the box. See our Product Manual Online.
Keeps Your iPad Cool:
To ensure proper device cooling, Heckler iPad Wall Mount with POE is thoughtfully designed to offer ample ventilation over the entire rear surface of your iPad. As your device screen will likely be on non-stop, it's critical to protect against overheating.