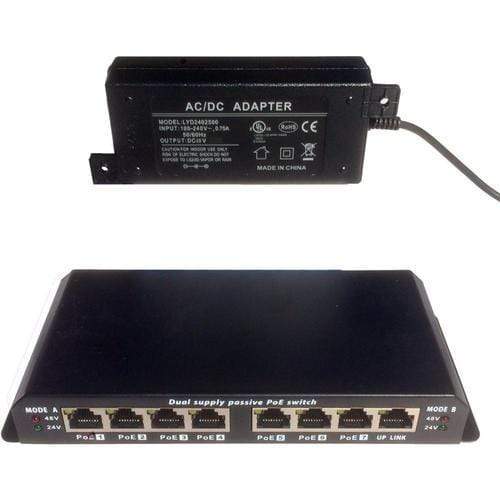 8 Port 10/100 PoE Switch with 48 Volt 30 Watt Power Supply
Add 7 ports of PoE to your network. Run a single Ethernet cable up to 328 feet (100 meters) from your existing modem or router and connect to the switch to provide power and data to as many as 7 devices. Or run two POES-8-7 switches in a series to extend your data reach to more than 600 feet.
Passive PoE means versatility. A Passive PoE injector always delivers the same voltage as its power source. This switch comes with a 48 volt power supply to use with 48-volt Passive PoE devices and 802.3af devices.

Product Features:
Plug and Play - Unmanaged PoE switch with transparent VLAN throughput
Includes a 48 volt UL/CE/FCC approved power supply - 30 watts shared budget

Delivers passive "always on" power to the end device
Compatible with IP Phones, PoE Cameras, WiFi Access Points and more
Select Mode A or Mode B input for compatibility options
10/100 Mbps data speed
Optional Accessories: