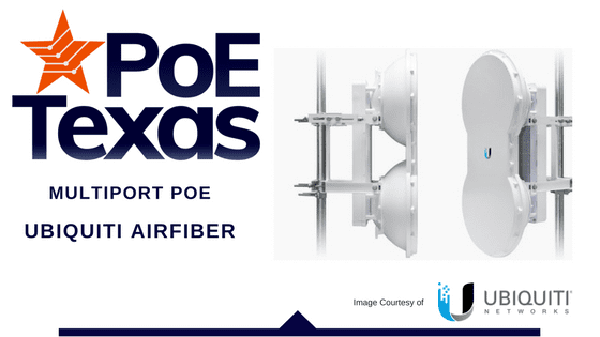 Multi-Port PoE for Ubiquiti airFiber Radios
Let me start with a generous thank you to John at Gunby Communications Inc. who helped us solve the last nagging problem with this configuration.  John's sharp eye found the easter egg in the design - Mode A polarity - which I'll cover below.
You're setting up a network backhaul and have multiple airFiber radios, and you don't want a big pile of the Ubiquiti single port injectors cluttering up your cabinets.  Well, that's what multiport injectors are for, and that's what we have.  Here's how to select equipment for and set up you your airFiber radios to work on a passive multi-port injector.
Picking the Power Supplying Equipment:
So, the simple part is selecting a high powered PoE mid-span injector.  You can choose products from single port units all the way up to 12 ports that can easily handle the 40-60 watts of PoE power needed.  For reference, check out the Ubiquiti airFiber specs here.
Follow the link to what you're looking for:
SINGLE PORT POE++
Next, select a power supply.  Since each airFiber draws 50 watts, so you'll need a power 50 x number of devices.  Besides our WS-PS-48v60w for the single port solution, we recommend one of these:
6 Port: (300 Watts)              12 Port: (600 Watts)
16 Port (800 Watts)
* Rack mount for the power supply
We can also help create a cable kit for you if you need one.  Just call our tech support line: 512-479-0317.
Easter Egg: A Crossover Cable
If you're reading this and saying to yourself, "What?!  I tried this before and it wasn't reliable", you found the design Easter Egg in the airFiber radios (sorry, my friend, no cool price here other than reliability).  It' not listed on the tech specs (and thanks again to Gunby Communications Inc. for discovering this), but the airFiber radios use only Mode A/B power (What's Mode A/B?) with polarity 1,2(+) 3,6(-) 4,5(+) 7,8(-).  The published PoE Texas polarity convention on Mode A is 1,2(-) 3,6(+) up to 650 mA at 48 volts (31.2 watts).
What this means is that unchecked with a normal straight ethernet cable an airFiber powered by one of our injectors would only run up to 35 watts of power and drop out intermittently when the power demand increased to 36 watts plus.  There's an easy fix, though.  Simply make a crossover cable into and out of the injector.
In practical terms, terminate the RJ-45 at your switch normally, Side One below.  Then, terminate the RJ-45 at the LAN port of the injector as Side Two.  Next, terminate the RJ-45 at the POE+DATA port for the injector as Side Two.  Finally, terminate the RJ-45 at the airFiber as Side One.  What this will do is swap the polarity at the injector without interrupting the data signal.  E' voila, you have the right polarity at your airFiber which you can check with your PoE Tester.
Now you've got a fully functioning POE++ multiport injector for your airFiber radios.  As always with PoE Texas, we're always here to help if you have questions or issues.  You can reach us at service@poetexas.com or 512-479-0317.
Finally, if you're a reseller or integrator, contact us at the service hotline to get set up with a reseller account with special reseller discounts and terms.