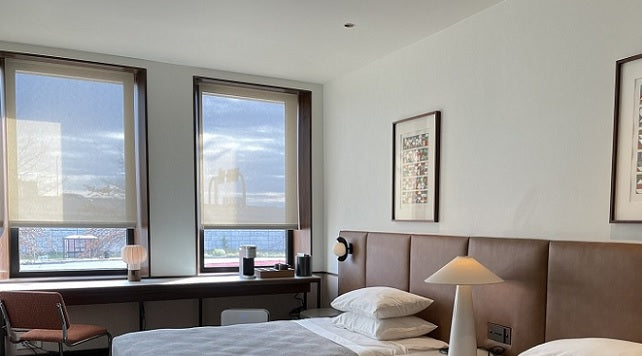 One of the Hotel Marcel's Unique Systems: Power over Ethernet Automated Roller Window Shades
NATIONAL REPORT—With so many varieties and technologies to choose from, choosing the right shades for your hotel may not be an easy one. Cost may ultimately guide your decision but so too must the extent to which to filter light, UV rays, and heat. You can go basic with manual roller shades or choose from a variety of motorized, automated, or programmable shades that one can control from the guestroom or the front desk. Increasingly, shade manufacturers are getting increasingly creative in how they deliver the best guest experience while reducing energy and overall costs at the same time. Consider the following installation at the Hotel Marcel in New Haven, Conn.
Late last month, PowerShades, a provider of manual and automated window shades for hospitality applications, announced that they have been selected to outfit the innovative new hotel with over 900 industry-first PoE (Power over Ethernet) automated roller window shades.
"The PoE motor did not exist in the industry and the industry really needed it," says Jason Turner, Vice President/Co-founder of PowerShades. "The Hotel Marcel is trying to go net zero and trying to have everything as possible PoE. All the wiring they were already putting in place. It was a great fit."
The Hilton-branded Hotel Marcel will feature PowerShades' automated shades in 165 guestrooms and meeting rooms throughout the building. The sale includes 468 dual shades (468 blackout shades and 468 solar), as well as 14 single blackouts and 14 single solar shades for a total of 964 PoE motors.
A Low-Energy Solution

The industry's first and only PoE automated shades, PowerShades' "True PoE" shades offer all the benefits of the company's RF automated product, along with additional advantages not found in any other type of motorized shade. With PoE automated shades, a single CAT5 cable provides both power and communications, so there is no proprietary hard wiring necessary. Plus, the PoE motor is low voltage (under 5 watts as compared to other companies' 30 watts or more), so it doesn't require a licensed electrician. Every shade gets its own IP address and with power coming from a single, central source, more information can be transferred on the network cable while improving reliability over traditional RF solutions.
The shades in each guestroom will be controllable by guests in two locations: a touchscreen located near the room entrance, as well as bedside buttons. A central control located at the hotel's front desk will allow hotel staff to pre-program the shades to open and close at set times including check-in and check-out. Turner says the key is saving energy in the room when the guest leaves the property.
"We can integrate with many types of control systems," Turner says. "Our PoE motors are IP controlled and that makes it easy to integrate with control systems either through the building's own system or the cloud. For most, if not all, hospitality projects, the energy savings aspect is tremendous."
While there is as much emphasis as possible on saving energy while the guest is outside the room, guest control is prioritized. "The real magic is rolling it back to when the guest has left, once the guest returns to the room," Turner says.
Motorized Makes a Big Difference

PowerShades knows the solar arc at each location where it works. That helps it maximize the energy savings. "The real engine is that the shades are motorized," Turner says. "If they are not motorized, you don't get that [energy-saving] benefit."
"The color or backing of fabric makes a big difference," he adds. "Light color fabrics will reflect more and darker will absorb more. "The Hotel Marcel chose a mixture of both—a solar fabric for the day and each has a second blackout shade that the customer can control."
Shades can also be programmed in common areas and meeting rooms to reduce energy costs, taking advantage of the warmth of the sun during colder days and keeping rooms cool during the heat of the summer.
The Hotel Marcel will be extraordinarily innovative, both in its unique design elements inside and out, and incorporation of "smart" technology like the PoE shades. The hotel will also generate 100 percent of its own electricity, heat and hot water with a rooftop solar array and solar parking canopies—making it the first "net zero" hotel in the country.
Said building architect and developer, Bruce Redman Becker, FAIA, LEED AP of Becker & Becker, "We will be creating one of the country's most sustainable and innovative hotels. We selected PowerShades because their automated shades featured the most developed PoE capabilities and were the best fit for our vision of bringing beauty, functionality and sustainability to every room in the hotel."
The PowerShades PoE automated shades are being installed this fall, and the hotel is scheduled to open in first quarter 2022.
See related article.
This content was originally published here.