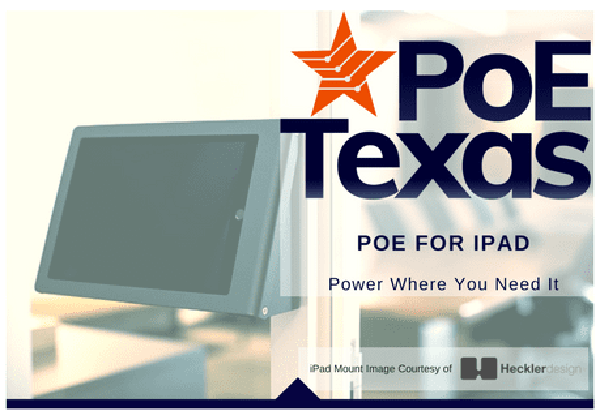 Power over Ethernet for iPad - UPDATED!
So you've decided to mount an iPad on your conference room or at a kiosk, and now you need power for it.  Let us help you spec out the right PoE solution for your iPad. 
If you're concerned about having an iPad always charging, there's good news.  iOS 11.3 now has a feature integrated into the software that protects the iPad battery when it is always charging.  Check out their help desk info here!
To pick out the right PoE Texas product for your iPad, we just need to answer a few quick questions:
 Do you already have a PoE switch?  (Most are IEEE 802.3af or .at)
If so, you just need to pick your splitter form factor and cable type which you can find in the link to the left.
Do you want to do Power and Data over Ethernet?  Click the picture below
 Where do you want to put your splitter?  You'll need a splitter and you can put it:
In a wall box - looks nice and professional
Inside the wall or in the ceiling
 Picking my Splitter
If you want to conceal as much as possible - meaning you tuck it away inside the wall or the ceiling - go for the enclosed form factor like the AF-Lightning or the GAF-USB.
Putting it in the ceiling?  Pick the GAF-5V10W and extend the power down the wall with a quality USB to Lightning Cable.  Don't go low cost on the cable because it might not send the 12 watts your iPad needs.
If you're looking for a clean solution to wall mount the splitter, pick the GAF-USB2 mounted on a recessed low voltage wall box.
 If you have tight walls or just have more access around the back, you could upgrade to a different low voltage wall box.
Putting it All Together 
Okay, so now the pin A into slot B.  But I'll let some pictures do the heavy lifting.
Pick my Power Supplying Equipment (PSE)
By the way, yeah, PSE is the technical acronym for it.  So now to power your splitter.
If you're just doing power or want to isolate your iPads from your other PoE devices, you can pick any one of our 10/100 injectors.  Quick side note: if you use one of our 10/100 injectors with the WT-GAF-USB2, check our our tech post on making the WT-GAF-USB2 Mode B.
On the other hand if you're doing power and data, you can use any IEEE 802.3af switch to power our IEEE 802.3af compatible splitters.  Please double check the PoE settings on your switch as some higher end switches require configuration to work with industry standard IEEE 802.3af. (That's right, Cisco, I'm talking about you!)  Or you can pick one of our our unmanaged PoE switches.
We Can't Forget 24 Volt Passive!
If you've got to do this on a budget, you can find all of these same great options in the 24 Volt Passive line.  
*Keep an eye peeled for our new WT-POE-USB2 that will give you the same great features as the WT-GAF-USB2 in a 24 volt passive format!