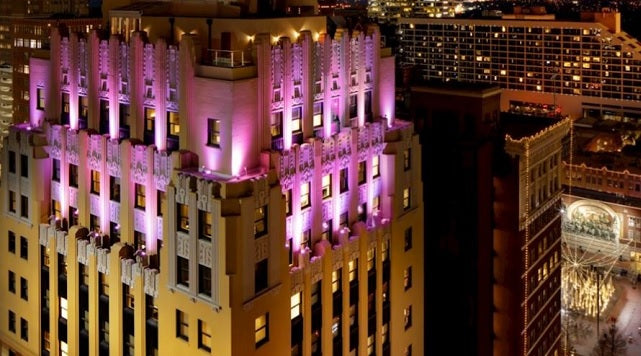 The Sinclair Utilizes Power Over Ethernet Technology for Lighting, Shading & More
FORT WORTH, TEXAS—This month The Sinclair, part of Marriott's Autograph Collection of hotels, will celebrate its one-year anniversary. Located in Fort Worth, the 164-room boutique property was once the Sinclair Oil building—quite the contrast from its status today as one of the most cutting-edge green hotels in the world. In renovating the 17-floor building, Forrest Perkins and Merriman Architects retained the property's ZigZag Moderne facada and Art Deco interiors but Sinclair Holdings, the hotel's developer, opted for power over Ethernet (PoE) technology, utilizing Cisco Digital Building Switches, to power the hotel's lights, window shades, smart mirrors, and minibars. Ethernet cables are typically used as network communication lines for landline phones and routers.
Hannah Walker, Chief Operating Officer for Sinclair Digital, the company that handled PoE integration for the project, said her company designs and implements this type of low voltage DC system in buildings.
"By powering devices directly with low voltage DC instead of high voltage AC, we save anywhere between 10 to 15 percent on energy conversion loss alone," Walker said. "By also combining the power with network communication, we're saving an additional 30 percent by utilizing controls and sensors. By utilizing this technology, we found labor savings as we were able to utilize a lower cost installer versus a licensed electrical contractor. We also found savings by eliminating circuit panels and using low voltage wire instead of metal jacket cable. The wires are run anywhere where power is needed, behind ceilings and walls, and they do not require conduit." Walker adds that the Ethernet power cannot shock you or start a fire.
System Easily Identifies Failures
If a lightbulb goes out, the Ethernet system knows and alerts appropriate staff. "Every cable going to a light fixture is sending power, but also data communication," Walker says. "When a fixture goes out, data stops sending." All lighting at The Sinclair is LED.
When asked if the HVAC system is currently connected to the Ethernet system, Walker indicated not yet but said, "The system can be programmed to power down any device in the room when a guest is not present. We are currently working with Marriott to pull access from their management platform to receive guest reservation information."
Also unique about The Sinclair is its backup power system. "Every high-rise building is required by code to have a back-up generator to provide power to emergency systems: elevators, lighting, stairway pressurization," Walker says. "This is typically in the form of a diesel generator which requires onsite diesel fuel, has to be run every month for maintenance which releases fossil fuels into the atmosphere, requires expensive ventilation, is extremely bulky, unreliable, and cannot fit down an elevator. The Sinclair Hotel has developed with LG the world's first lithium-Ion battery that is UL924 rated for emergency systems. It is called the LG ESS. The benefits include: zero maintenance, no reliance on fossil fuels, extremely reliable, and can be connected directly to solar power or other renewable energy sources.
Positive PR from Investments

The Sinclair's technology investments have caught the attention of media including: NBC Today Show, Fortune Magazine, Premier Hospitality Magazine, Fort Worth Business Magazine, Star Telegram, among others.
When asked if she would recommend a PoE approach to others either renovating a building or building new, Walker said, "We would recommend this approach to anyone building a new building or doing a full building/floor gut/renovation," adding that her company has not seen any major failures or issues with the technology that has not been resolved with software patches or occasional equipment replacement.
Additional Green Efforts

The Sinclair is a paperless property, using electronic methods to the extent possible. Only recycled paper products are used in guestrooms and plastics and other hazardous materials are avoided. The hotel participates in Nespresso's recycling program. The Dallas Restaurant Group, which manages the hotel's F&B outlets, has made strides in eliminating paper menus by using QR codes and participates in community efforts. Click here for details.
Sinclair Digital is also handling PoE integration for Hotel Marcel in New Haven, Conn. That property is scheduled to open in first quarter 2022.
Glenn Hasek can be reached at greenlodgingnews@gmail.com.
This content was originally published here.