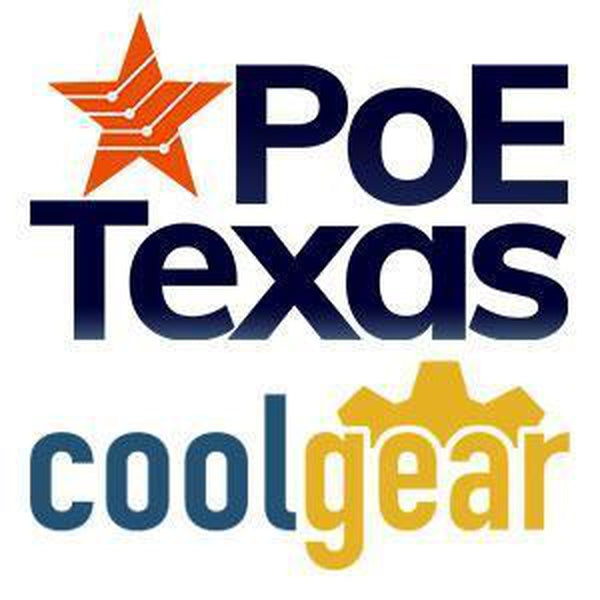 USB Type-C with Power Delivery on Power Over Ethernet
Brought to you by PoE Texas and Coolgear, Inc.
Apple, Google, Samsung, Nest, Eero, and just about every other device manufacturer are standardizing on USB Type C (USB-C) with the new Power Delivery (PD) protocol for their products.  Coolgear and PoE Texas have joined forces to deliver USB-C with PD combined with the convenience of Power Over Ethernet.
In the first quarter of 2018, PoE Texas will launch the POE-USBC-Kit and the AT-USBC-Kit with everything you'll need to use USB-C PD over Ethernet on our channels at www.poetexas.com, www.coolgear.com, and Amazon.com.   
If you're looking for an immediate solution, check out our beta version: PT-POE-USB-C-kit
What is USB Type C Power Delivery?
USB-C is designed for the power and data needs of modern devices.  For example, the great new feature on a phone to charge in fifteen minutes is made possible with USB-C Power Delivery.  At the high end, it handles up to 100 watts of power (10 times the capability of earlier USB types) ranging from 5 to 20 volts. That's enough to charge a laptop and power an external monitor.  However, this new PD miracle relies on a chip to chip communication over the USB-C cable.  Previous compatibility issues made it difficult to find a charger that worked that wasn't specially designed for your device.
Leading the way in commercial and industrial USB-C PD designs, Coolgear has developed a sleek, micro form factor USB-C PD device with the broadest compatibility profile possible.  The CG-DCPD21W tested against iPhone 8, Pixel and Pixel 2, Google Wifi, Nestcam, iPad Pro 12.9", Samsung S8, Eero Pro, and many others to confirm full compatibility in the AT-USBC-Kit and the POE-USBC-Kit.
So with USB-C, Why Power over Ethernet?
As great as it is, USB-C PD has its limits.  Even with the best cable it can only transmit power less than ten feet or three meters.  In addition, USB-C cables have not been integrated into the walls of buildings or homes.  
In contrast, Ethernet has proven cost effective, can travel up to 330 feet (100 meters), and is nearly ubiquitous in modern construction.  PoE cost effectively transmits power without having to pull permits or pay an electrician to put in a new outlet right where you need it.  It can all be done for a fraction of the cost with the equipment you already have, whether you have a PoE switch or just a regular switch.
But How Can PoE Deliver That Much Power?
PoE Texas has tackled the question of power for USB-C PD with the same balance of value and creativity as  the WT-AF-5v10w series by leveraging the right PoE standards:
PoE+ (IEEE 802.3at) - PoE Texas developed a custom PoE+ splitter that will support 25 watts PoE+, both active and passive, in the

AT-USBC-Kit

.

24 Volt Passive - For cost conscious users who control both the Power Supplying Equipment (PSE) and the Powered Device (PD), PoE Texas has a solution using the 24 volt PoE standard at upto 25 watts in the

POE-USBC-Kit.

uPoE (IEEE 802.3bt) - In anticipation of the new standard scheduled to release later in 2018, PoE Texas has developed 60 watt PoE PSE's and is finalizing designs for 60 watt PoE splitters to support full capacity USB-C PD.
How Far Can All This Go?
In 2018 PoE Texas and Coolgear will continue to innovate in the USB Type C space.  With concepts like 'hot desking' and shared office spaces like WeWork, where desks are allocated as needed, businesses are looking for ways to make office spaces more flexible and responsive. With PoE and USB-C, each workstation in an office will be powered through a single Ethernet cable, eliminating the need to install electrical outlets for every desk. Floor plans could be changed as needed in a fraction of the time and cost it takes now.  Coolgear and PoE Texas will provide the solutions to maximize the new opportunities of USB Type C Power Delivery.
About PoE Texas
PoE Texas began offering its unique Power over Ethernet injectors under the WiFi-Texas brand in 2011. Today it offers a wide variety of low voltage power solutions to homes and businesses around the world, but it remains a small company dedicated to helping customers do big things. For more information, visit PoETexas.com and our Amazon.com store, and find us on Facebook and Twitter.
About CoolGear
One of the world's largest internet based companies established in 1997. CoolGear offers the most innovative USB products paired with superb customer service and technical support.  CoolGear provides customers with the solutions they need. All of its distributing companies strive to surpass the competition by providing our customers with expeditious shipping and the tentative service that they deserve. This allows CoolGear customers to buy with confidence, knowing that they're getting the best prices on the products they want. For more information, visit CoolGear.com.
Product Specifications:
Form Factor:

2 Part

Input: Female RJ-45

Output: USB-C Female; Female RJ-45

Dimensions:

PoE Splitter: 4" x 2" x 1"

USB-C PD:

PoE Standards:




IEEE 802.3at

24 Volt Passive PoE

Maximum Range:

100 meter (330 ft)

Data Rate:

Splitter: Gigabit

USB-C PD - Power only

USB Type C Profiles:

   5V 2.39A
    9V 2.07A
    12V 1.51A
    15V 1.27A
    20.0V 1.11A

Temperature:

10 to 60 C

Humidity

5 - 90%