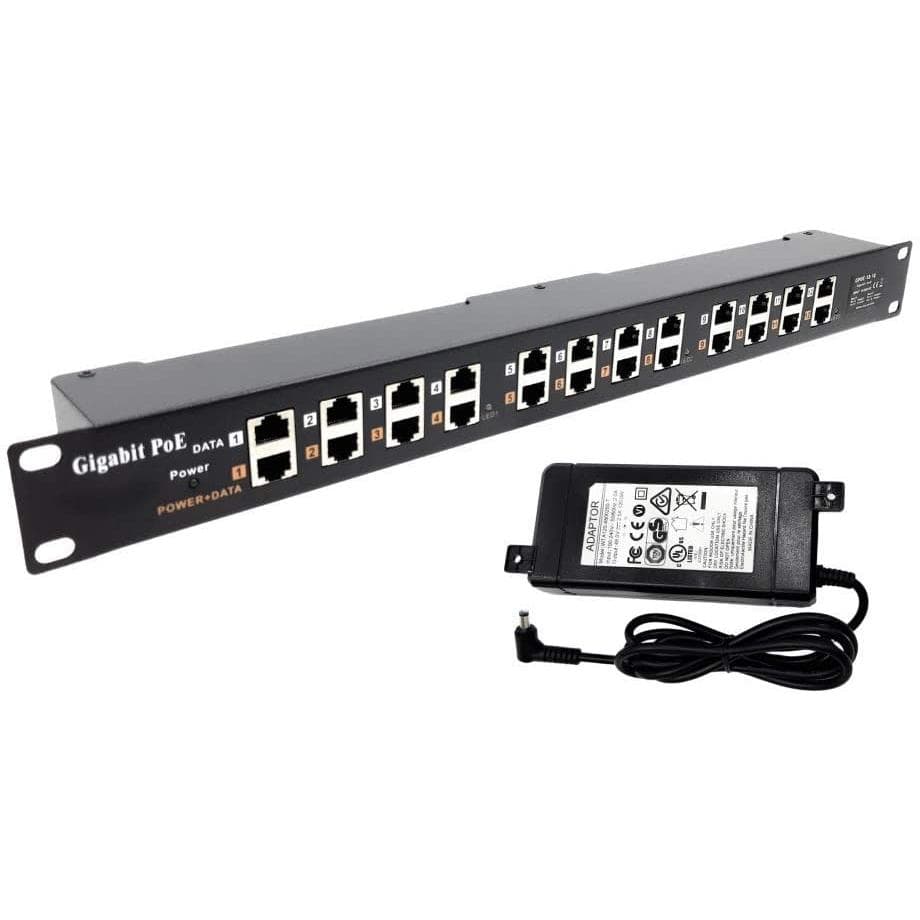 12-Port Gigabit Passive Rack Mount PoE Injector with 48 Volt 120 Watt Power Supply
Simplify installations with a multi-port midspan injector. Power up to twelve IP cameras, desktop phones, WiFi access points, or other low voltage devices through a network data cable using this Power over Ethernet (PoE) injector. A Passive PoE injector always delivers the same voltage as its power source. This kit includes a 48 volt, 120 watt power supply to use with IEEE 802.3af PoE devices.
Save big on network upgrades and device installations. Power over Ethernet delivers power 328 feet from the PoE Injector, eliminating the expense and hassle of installing AC power near your powered device.
Product Features
Power up to 12 PoE devices in one unit - extend power up to 328 feet
Passive "Always On" power will continuously deliver power to your device
Includes a UL Rated 48 volt, 120 watt power supply
Compatible with Passive 802.3af PoE devices
Mode A/B power input options allows for versatile PoE applications
Input 48 Volts
.65A Port Limit - up to 31 watts per port with total budget of 120 watts available for all ports
10/100/1000 Mbps data operation
Quality shielded RJ45 ports
Bright LED status indicators
1U Rack Mount
See the Online Technical Manual
Compatible Devices
IP phones like Polycom, Cisco, Yealink
WiFi Access points
IP Cameras
802.3af devices
NOTE: All devices receive the same voltage (48 volts) and share power up to 120 watts. Check your device specifications for power needs